New Certifications for Latex
by Theresa Sirois, Social Media Coordinator 
---
The Clean Bedroom offers you an array of organic mattresses and bedding, and now living and dining room furniture, for your healthy home. All of our products are hand selected for their fair manufacturing standards, clean and non-toxic fabrication, and of course, comfort. But how do you know they are really "organic"?
Historically, there has been only one straightforward and universal certification for mattresses in the United States, which includes standards for flame retardancy. Beyond this, some manufacturers will self-certify to other "natural" standards, or purchase various certifications that were never intended for mattress materials.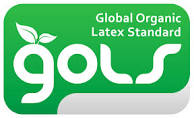 In a recent blog post, our friends at Savvy Rest tell us; "Since the early 2000s, the Environmental Working Group has maintained organic standards for textiles–including fabric and batting. The acronym is GOTS, for Global Organic Textile Standards. Mattresses and bedding can be certified to GOTS standards. This certification requires that both the materials and the manufacturer pass an annual inspection."
The article goes on to describe that today, there are more and more mattress companies claiming "natural" materials, and more specifically, "natural latex". But before now, there has not been a testable standard for latex foam. Today there is GOLS (Global Organic Latex Standard)
"So far, the GOLS seal is not yet as widely recognized as GOTS. But as the industry moves forward, GOLS will also become a well-regarded standard."*
You can view our Savvy Rest products HERE. Have questions? Feel free to call our customer service department at 866.380.5892 or visit any of our showrooms.
* check out the article Global Organic Latex Standard in its entirety HERE 
For the most up to date healthy sleep and green living information find and follow us on Facebook, Twitter, Pinterest, Instagram, and NOW Tumblr!