Description

This organic support pillow is made of natural cotton canvas and filled with organic buckwheat hulls. This round pillow features hand-sewn side pleats, an easy-to-use velcro opening, and a heavy duty carrying handle for portability. Filling can be added or taken away to provide just the right amount of support. This pillow promotes proper posture and alignment for meditation.
For over 30 years, Sachi Organics has designed and manufactured high-quality pillows to enrich and sustain the planet and those who inhabit it. With their commitment to sourcing materials locally from family farms, Sachi organic bedding supports American farmers, utilizing raw products from farms in Texas, South Dakota, and California. They have built a solid network with organic farmers and trusted organic suppliers with their commitment to use socially responsible mills as part of an effort to stimulate local agriculture economy and ensure quality control.
Mentioned in the New York Times, Sachi pillows are proudly made in New Mexico, USA. If the commitment found in their manufacturing process isn't enough to win you over, consider the fact that their products contain no flame retardants and are chemical-free.

Name
Sachi Organics Blue Lotus Organic Buckwheat Hull Zafu Support PIllow for Meditation - Natural_Undyed
Sachi Organics Blue Lotus Organic Buckwheat Hull Zafu Support PIllow for Meditation - Blue
SKU
Sachi-Zafu-Natural
Sachi-Zafu-Blue
Price
$77.00
$77.00
Color
Natural_Undyed
Blue
Shipping
This item typically ships in 6-10 days.  Shipping rates  >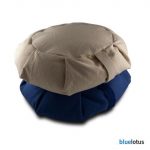 | | |
| --- | --- |
| Name | Sachi Organics Blue Lotus Organic Buckwheat Hull Zafu Support PIllow for Meditation - Natural_Undyed |
| SKU | Sachi-Zafu-Natural |
| Price | $77.00 |
| Color | Natural_Undyed |
| Shipping | This item typically ships in 6-10 days.  Shipping rates  > |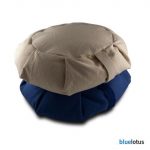 | | |
| --- | --- |
| Name | Sachi Organics Blue Lotus Organic Buckwheat Hull Zafu Support PIllow for Meditation - Blue |
| SKU | Sachi-Zafu-Blue |
| Price | $77.00 |
| Color | Blue |
| Shipping | This item typically ships in 6-10 days.  Shipping rates  > |