Description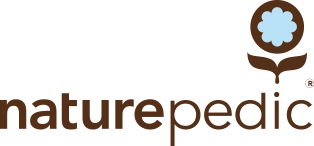 You can experience a great night of sleep every night with the Naturepedic Azure hybrid organic mattress. This mattress is part of Naturepedic's exclusive Halcyon collection. The Halcyon collection is made from only the finest organic, luxury, and non-toxic materials. The soft organic fabrics used have exceptional comfort and durability.
Even better, each mattress is customizable to provide flexibility over time and individual tailoring to each sleeper's needs. In fact, you can even change how the mattress feels in a few years as your needs change. Your bedroom will be a haven of tranquility, allowing you to get the restorative sleep you need.
The Azure organic mattress has a 10″ profile, with 6″ of organic wrapped coils topped with 3″ of organic latex in your choice of firmness.  All Halcyon mattresses also include a luxury wool blend layer consisting of organic wool, alpaca, and cashmere. This blend is breathable and promotes airflow, allowing you to stay cool in summer and warm in winter.
The layers are all enclosed in a zippered cotton cover which protects the components, yet provides easy access.
OVERVIEW
At Naturepedic, they believe natural materials are at the core of superior comfort and support. Would you rather sleep on a pile of chemicals or be surrounded by the finest organic materials mother nature has to offer? 
The Azure mattress ships in multiple boxes. It requires some light assembly.
Proudly made in the USA.