Frequently Asked Questions
Mattress
We have detailed illustrated guides to help you put together your new Obasan mattress. Locate the guide you need from the list below:
While bug exterminators are only one phone call away, you can get rid of bed bugs in your mattress by creating a bedbug-free zone in your home. Firstly, you must isolate your mattress and make it doesn't touch anything else in your house. Strip off the sheets, comforter, and pillowcases. Wash them in the highest temperature setting and dry them thoroughly.
Bed bugs will die at 113 degrees F if sustained for 20 minutes or more. For bed bug eggs, however, they're a bit harder to kill. You need to expose them at 118 degrees F for 90 minutes to ensure none of them come out alive.
Since you can't throw the mattress in the wash, kill them off by steaming them to death. Use a home steam cleaner to sanitize not only your mattress but the whole house as well. Steam cleaners are a bit expensive, but they're worth every penny. Use a stiff brush on the seams of the mattress, and then vacuum thoroughly and put the vacuum bag in the trash and carry it outside the house.
After treatment, encase the mattress and box spring (if applicable) in a zippered mattress cover. Leave the cover on for at least one year.
A twin mattress, also called a single mattress, is only 75 inches long — the same length as a full-size mattress. Twin mattresses are around 38 inches wide, making it the tiniest possible mattress size other than crib mattresses. This size can be used by adults who are not that tall, but it is most fitted for children who don't fit in a crib-size mattress. This size can be also used in bunk beds, daybeds, or guest beds, and will fit perfectly in small rooms.
Look no further — TheCleanBedroom.com has got all the types of comfortable mattresses perfect for your needs. We understand the importance of good rest and better sleep, so we encourage everybody to switch to organic and all-natural mattresses.
We are committed to helping you find the right solution. We live for customer satisfaction and not the sale. If you have any ideas in mind, talk to us and we'll listen. Based on your needs, we'll come up with some mattresses you may find useful, and we'll wait for you to decide. With our recommendation, it's a guarantee you'll find the best mattress there is!
Your mattress will eventually give up on you, and when this happens, make sure you get rid of it in a responsible manner. Your first option is to return the mattress to the manufacturer. Give them a call if you need to get rid of the old one. Many manufacturers are taking on the task of recycling the mattress themselves.
If your mattress is still pretty usable, you can either give it away or sell it. Of course, make sure the mattress doesn't have a lot of signs of wear and tear or harboring bedbugs. You can also donate your mattress to non-profit organizations. They pretty much have the right tools and ideas on how to get rid of old mattresses properly and responsibly.
If your mattress is not usable, check with your community or town to see how to dispose of it properly.
If you are buying a new mattress, the delivery service may haul away your old mattress for a fee.
One way to estimate the longevity of a mattress is to check the length of the warranty.  How long is the company willing to stand behind its product?
Additionally, the answer depends on the materials the mattress is made of. On average, an innerspring mattress will last from 5 to 7 years, although the innerspring mattresses we sell have longer warranties and longer life. Latex mattresses can last 15-30 years.
Like most things, a mattress will eventually break down, which could cause a lot of pain and discomfort. It's important to note the longevity of your mattress so that you can replace it when appropriate.
Full-size mattresses are 75 inches long and 53 inches wide. They are approximately 15 inches wider than a twin-size mattress. This size is suited for single sleepers. Sharing it with someone will only leave about 27 inches of personal space.
The length of this mattress may be too short for some adults. While adults can use them, a full-size mattress is best for teenagers and younger children. Kids will have a lot of room sleeping in this mattress size, and it will take longer for them to outgrow it.
Queen size mattresses are 60 inches wide by 80 inches long, which means they are 5 inches longer and 7 inches wider than a full-size mattress. With this additional length and width, a queen mattress can be more comfortable, whether for single use or for couples. This fact has made the queen mattress the popular size. This mattress size is perfect for couples who don't need a very wide space when sleeping, or for those who don't have that much space in the bedroom. For single sleepers, they will find a lot of room in a queen-sized mattress, which is ideal if you're the restless type of sleeper.
A hybrid mattress is a combination of two things – a multi-layer bed constructed with the firmness of a spring mattress and the comfort and contouring of a cushion layer of latex.
As you might expect, this is what provides the best of both worlds. You get a coil-based support core and a cushioning comfort system that combine to give an excellent night of sleep. Putting these two elements together means you not only receive relief for pressure points and the softness that comes from latex but also good edge support and bounce typically associated with an innerspring mattress.
Here at The Clean Bedroom, we only offer the best mattresses your money can buy. Our organic mattresses should give you that quality sleep you've always dreamed of. If you want a natural mattress, you can choose from among our top name brands including Obasan, Vispring, NaturePedic, Royal-Pedic, and a whole lot more. Do you want something made with organic wool or cotton? Or natural Talalay latex or Dunlop? We have them.
The best mattress is the one that is the best for you, customized to give you the best night of sleep.
When selecting a mattress, you should consider the type of mattress, your budget, the firmness level, the position you sleep in, and how much you weigh. Yes, choosing a mattress has become a daunting task because of the hundreds of options available in the market right now.
Start with the type. Do you want an innerspring, a latex mattress, or a combination (hybrid)? Coils have that "just right" kind of bounce, while latex mattresses offer great hug and contour. Next is your budget. What are you willing to spend, and what is the warranty on the mattress? You don't want something that'll easily break down, do you? You'll also have to consider if you want a really firm mattress, a really soft one, or something that's in between. Your sleeping position should help you decide. Typically, most people prefer a firmness in the 5 to 7 range.
It's best to ask the sales rep or manufacturer what mattress suits you depending on your sleeping position.  Our blog also has several resources to help you research your decision.
All mattresses come with manufacturer's labels and generally provide how-to's when it comes to cleaning their products. So before anything else, check the label or the handy guidebook first. In general, your vacuum cleaner's upholstery attachment is the best tool for mattress cleaning.
Always start at the very top and gradually work your way down in narrow and overlapping paths, then onto the sides. You should also deodorize your mattress regularly. Do this by sprinkling baking soda all over the mattress and scrubbing it evenly. This will get rid of odors caused by sweat and body oils.
Allow the baking soda to sit for 10 to 15 minutes. Now that the baking soda has bonded with the sweat and oils in the mattress, vacuum it again to pull the moisture out.
If your mattress has stains, be it urine, blood, other bodily fluids, or stains caused by food and drinks, it is best to treat it immediately with hydrogen peroxide or a strong detergent specifically for stains. However, moisture is not your mattress' best friend as it can cause mold. So use as little moisture as possible when spot cleaning your mattress.
Buying an organic latex mattress
GOLS is a global certification. GOLS is an acronym standing for Global Organic Latex Standard. Both materials and procedures must be environmentally and socially responsible to receive this certification.  The process is certified from the field all the way through the production of certified items.
Placing a latex mattress on the floor would not allow for proper air circulation and would be detrimental to the mattress. It would also probably negate the warranty.
Yes, you can! However, there needs to be proper support to ensure adequate circulation as well as support. The mattress manufacturer will tell you what the amount of space between slats should be.
Additionally, there must be room to allow for circulation but not too much space between slats to support the mattress adequately. Queen and King sizes should have center support under the bed.
It depends on what the mattress is made of.  Substances such as wool and cotton are not as flammable as synthetic materials.
In organic latex mattresses, wool is typically quilted into the cover. Wool is a natural flame retardant. Wool has many other benefits as well. It helps to regulate temperature, which means you can sleep cooler and drier. It is renewable, breathable, and naturally dust-mite resistant, as well as providing a soft layer for the comfort of your mattress. Organic cotton tends to smolder, not burst into flames.
Pure GOLS-certified organic latex is the purest latex as well as the best quality. Customizability is also a big plus. Latex mattresses can often be customized by side or with different firmnesses for each layer. Also, you are able to reconfigure the bed if it does not work for you. Our Obasan line is a good example of the customizability provided by latex mattresses.
*Latex mattresses are typically quieter than other mattresses
*They are more customizable than other mattresses (unless very high end)
*Latex mattresses are typically easier to move (if they come in layers)
*Organic latex is durable
Yes, some people say they are like sleeping on a cloud with support underneath.
An organic latex mattress with a firm or medium supporting layer covered with a soft top layer will conform to your body shape while still providing optimum support. In addition, many latex mattresses can customize the firmness to make it just right for you.
Blended latex, as you might expect, is a mixture of natural and synthetic materials. The ratio of natural to synthetic varies depending on the manufacturer. It is usually less expensive than organic latex.
The Clean Bedroom does not sell any mattresses made of blended latex. Our mattresses use organic latex.
Latex mattresses have many advantages, especially if you choose organic latex. If you buy GOLS-certified latex, the bed will be organic, pure, and free of toxic chemicals.
Also, many latex mattresses are customizable and made up of components. Because of this flexibility of construction,  you can customize each side's firmness, and both you and your partner will get your best sleep.
Finally, a latex mattress constructed of several parts is much easier to move, as you can move each piece individually. Latex mattresses excel in providing support and providing a cushiony layer where your body needs it.
Latex is durable and long-lasting. Air circulation means that you are able to sleep cooler. Finally, it is naturally dust-mite resistant, anti-bacterial, and insect-repellent.
Latex is made from a milky white liquid that is found just beneath the bark of the Hevea brasilienesis rubber tree. A small strip of bark is cut from the tree, and the milky white liquid is collected in a container. The same tree can be tapped again, so rubber is a very sustainable crop. It can destabilize quickly, so makers of organic latex often have it molded into sheets on the same day to avoid the use of chemicals. If you buy GOLS-certified latex, the mattress will be organic, pure, and free of toxic chemicals
Adjustable Bed
Your search for an adjustable bed and mattress begins and ends at The Clean Bedroom, where premium, best-selling brands like Leggett & Platt and Reverie are but two of the options from which shoppers can choose. Our sleep specialists know a thing or two about pain relief, the importance of a good night's sleep, and the decision shoppers must make when they invest in their health for years to come.
 Our goal? Helping consumers make wise decisions about the adjustable bed that impacts every aspect of their lives. We invite questions and queries because it gives us a chance to educate shoppers about the advantages and benefits of enhanced, natural sleep products. Call us: (212) 764-3232.
According to linen manufacturers churning out sheets to meet the growing demand for adjustable-bed owners, you are best served by choosing styles and fabrics that stretch and contour. Bottom fitted sheets should offer thick elastic hems and feature deep pockets, so your bed won't "unmake itself" at night when you adjust positions, toss or turn. Your magic number is 14: if a fitted bottom sheet isn't at least that deep, keep shopping.
Quality is always important when purchasing linens, so you enjoy your sheets as long as your adjustable bed serves your sleep needs. If you're already a stickler for cotton—or you're happy with linen because it washes and dries so nicely—you'll find both on store shelves. You may also prefer a specific thread count or weave density and you shouldn't have a problem locating exactly what you seek. Though a bit thinner than traditional linen fabrics, don't discount the ultimate in stretch and softness found in deep-pocketed cotton jersey and sateen,  all of which are available in sizes and colors sure to suit your color scheme.
Should you have a split adjustable bed, you will want to get split sheets also.  We have several options available in both Queen and King size.
This decision is also going to require you to do your homework because you'll find mattresses engineered specifically for adjustable beds that come in the basic three types you may be familiar with: Innerspring, latex, and hybrids that borrow from both construction types.
What characteristics are most important? Support, durability, flexibility, and thickness. Choosing a mattress that's thicker than 14-inches could impede base functionality and limit the number of positions your bed can assume.
Innerspring mattresses offering classic coil/spring construction sandwiched in-between padding materials are your best bet if you like this type of mattress. Will a regular innerspring product do the job? Some manufacturers produce flexible innerspring styles that are less expensive, but you may not get the restful sleep you seek.
Latex mattresses tend to be thinner, so flexibility is often a purchasing factor for people who describe the sleep they get as "buoyant." This all-latex composition excels at pampering the body's pressure points.  Fans of this mattress type are impressed by the material's durability.
These manufacturers make mattresses that work well with adjustable beds:
How can you determine the best adjustable bed for your needs? This can be a hard question to answer because like sleepers, adjustable beds are unique. You may think a corded adjustable bed is the only way to count sheep because you'll never experience reception problems that can happen when remote control units lose their signal.
On the other hand, if you're likely to sip beverages in bed and there's a chance you could spill it on your powered bed's hand control, you could get a shock. If you need to take pressure off your joints, looking for a bed with zero gravity could be helpful.
For fans of the adjustable bed, remote control models check off all the right boxes: there's no cord to trip you up, you can spill all of the champagne you like without worrying about turning into one of Benjamin Franklin's science experiments and a second party can control the bed if it's driven by a wireless device, a boon to folks who are incapacitated and have problems doing the driving. We don't have to add that if the remote goes AWOL, you'll be in the same pickle as you would be if your TV remote disappeared, do we?
In terms of the engineering of adjustable beds, it's best to think of this bed style as "a base," because as the experts note, adjustable base companies don't usually make mattresses, too. These intricate bed bases are constructed of metal frame parts that must be bent, painted, and assembled before control systems and motors are added.
You'll be asked to choose between a hard-wired model and a wireless remote when you shop. A hard-wired model requires you to situate your bed in close proximity to a power outlet while the second uses radiofrequency or infrared beams to adjust positions accordingly. Either type gives a sleeper one-button control over the areas you want to be elevated, lowered, or otherwise adjusted. There are advantages to both, though remote-controlled beds can be pricier.
The good news about adjustable bed price tags is that the popularity of this bed style has increased the number of manufacturers making them, so even if you're shopping with a shoestring budget, say reviewers at ConsumerAffairs.com, you can find an adjustable bed for as little as $600.
However, beware of manufacturers churning out adjustable beds that are less than high quality because you'll find yourself replacing your bed much sooner than you imagined. Many companies produce good-quality products in the $1800 to $2500 range, or you can splurge on one that does everything but make your bed for upwards of $6000.
Your criteria—size, fabrication materials, in-home trial runs, and extended warranties—all go into the retail price you pay, and it never hurts to look for sales, especially when new models are about to debut and inventory is deep. But if you're looking for all-natural products that are responsibly sourced, prepare to spend a little more.
Pillow Care
If you want to take good care of your pillows, knowing exactly when to change them and wash them is essential. The duration for which you should keep your pillow before you can change it up largely depends on your sleeping habits. Usually, changing your pillow once every three years is a good way to keep them in good condition, and to give your head and neck the best support that it needs. However, some pillows can last for a whole lot longer because of the constituents that it is made of. A good way to tell is to look at the warranty offered by the manufacturer.
Throw pillows aren't too different from regular pillows, especially when it comes to their make and their constituents. Throw pillows are smaller than regular pillows, but still, need more or less the same kind of care to keep them in good condition. If you feel like your throw pillows need some care, washing them is the best way to restore their goodness. If you are looking to wash them, don't forget to pay attention to the kind of material that they are made of.  If they have a removable cover, your job is easy as you can easily keep the cover clean and hygienic. Spot clean the inside pillow form to take care of any stains.
A down pillow is a specific kind of product that is made of animal parts. The feathers are usually sourced from ducks or geese. Overall, these pillows tend to be more of an investment and last longer. Therefore you need a lot more care when trying to clean them. Moisture is an enemy of down; therefore, spot cleaning is the treatment of choice for down pillows.
Because of their filling, these can be especially delicate to work with and are more prone to damage due to improper washing. Normally, the tag on the pillow will tell you whether or not this can be washed in the washer or needs to be washed by hand. However, be aware that washing your pillow yourself may void the warranty. Check with the manufacturer for specific instructions.
Down pillows should not be dry cleaned as the chemicals can cause the down to break down.
If you have decided to buy a new pillow, the next thought that may occur to you is what you should do with the older pillows that you have. Keeping them in some kind of storage is not only unnecessary but also something that takes up a lot of space. If you have already decided to buy a new set of pillows, bidding farewell to them once and for all is the best way to go. Most places that take clothing donations do not take in old pillows for hygienic purposes, but animal shelters are always ready to take them. Pillows are unfortunately nonrecyclable, which is why they should not be put into recycling bins. When disposing of these, make sure that they are kept in a bigger plastic bag which makes it easy to see what is inside. If you don't want to part ways with your pillows, there are several DIYs that you can try out and make use of them.
Cleaning pillows are not the same as washing them, even though the act of washing leads to clean pillows.
Pillows should ideally be washed once every four months, but during those four months, a pillow is always going to be prone to dirt and dust. Sleeping on something that has dust on it on a regular basis is not something that is ideal for your health, and is something that can be easily worked around. Every night before you go to bed, beating your pillows to remove any kind of dust is usually the way to go. Be sure to do this away from your bed to prevent the dust from settling on it.
Regularly changing the pillow cover is also something that is incredibly important, because it can help keep your pillow cleaner for longer. Changing up your pillow cover every week is an incredibly hygienic practice, and is something that should be done.
Wool pillows can be refreshed by placing them in the sun for a few hours.  Pillows that are made of natural materials have individualized instructions for washing - so it is a good idea to consult the manufacturer.
Platform Beds
People most commonly compare platform beds to box springs. Both are bed bases, although a platform bed doubles as a bed frame. A traditional box spring is made of either wood or metal. It is the size of your mattress and holds within it metal springs that respond to pressure from the mattress on top. This makes box springs designed specifically to support innerspring beddings. They also offer less variety of styles and options as compared to platform beds. While they can sometimes be the most cost-efficient option, they are usually not as sturdy or durable as other options, including platform beds. They are often the bounciest option but this can also cause it to be noisy, something you don't have to worry about with platform beds.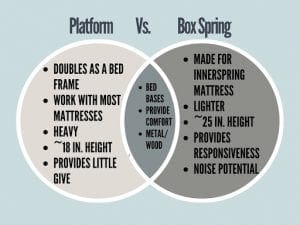 Platform beds come in various styles. Here is a list of some popular variations:
A floating design that has a larger top than a base. This creates the illusion that the frame and mattress are floating, or slightly hovering depending on the height above the ground.
Slats or solid top, as mentioned above.
Open base with space for storage
Drawers underneath for added storage and organization
With or without headboard and/or footboard
Solid, little or no space beneath
The answer is there are no worries when it comes to the comfort of sleeping on a platform bed. While many people can tell the difference between laying a mattress on the floor and having it on a platform, many people can't tell the difference between sleeping on a platform bed versus a box spring.
Platform beds typically have rows of slats running from one side to the other, intended to support the mattress. While a traditional bed frame only has a few slats to support a foundation or box spring, a platform has multiple, to hold a mattress without additional support. Adjusting the distance between the slats can allow you to slightly modify the firmness or softness of the mattress. It's quick and convenient and many platform beds include this additional feature. It's good to note that platform beds can also have a solid surface instead of adjustable slats.
A platform bed can have a headboard and footboard, they could have one or the other, or they could have neither of them. Platforms that do headboards and/or footboards allow you the freedom to decorate, an easy way to show your own personal style or add a neat element to your bedroom.
Returns Policy
We have a strict no returns policy on used mattresses, toppers, and bedding for sanitary reasons. However, many of our customized mattress models do have some kind of adjustment policy for a certain period of time after purchase. This varies by brand.
While the mattress industry standard practice is to resell returned mattresses as showroom models, we do not. We are, after all, The Clean Bedroom, and we find this practice appalling.
If you have refused your order upon receipt, you will be liable for the cost of any promotional outbound (including special shipping), return shipping, and handling costs.
All returns must be in the original packaging including the manuals, accessories, warranty information, and filters (if applicable).
A letter stating the reason for return, along with contact information must be included in your package.
Once the item is received at the specified address and is verified to be unused in original condition, applicable credit will be issued to the customer's credit card. Customers should allow 30 days for a refund to appear on their statements
The Clean Bedroom 
will allow you 30 days from receipt of the product to notify us that you need to return your merchandise due to a defect. Call
(212) 764-3232
 to discuss any return issues you might have. We'll be happy to help you.
Mattresses, furniture, adjustable bed bases, toppers, bedding items and pillows are not returnable. Call
(212) 764-3232
BEFORE sending any item back to The Clean Bedroom.
All return shipping costs are the customer's responsibility. We do not reimburse shipping costs or issue UPS call for pick up for any customer return.
If you are not satisfied with your purchase other than furniture, adjustable bed bases, mattresses, toppers, bedding items and pillows, The Clean Bedroom will allow you 30 days from receipt of the product to notify us that you need to return your merchandise.
Bedding that has been opened or used may not be resold and is not returnable by law. All bed linen items must be brand new, unused, and unopened.
You will be responsible for return shipping costs. Our cost of shipping to you will be deducted from your refund.  Mattresses, furniture, adjustable bed bases, toppers, bedding and pillows are not returnable.
In the event that your product is defective, within 30 days from delivery, we will replace your purchase immediately at no charge and pay for all associated shipping costs. Please call us at (212) 764-3232 to speak to one of our customer service representatives who will provide you with instructions on how to process your return.
If more than 30 days have passed since receipt of the product and the latter is still under warranty, our customer service department will give you the information you need to have your product repaired or replaced.
---
Yes - you can order a custom size mattress from us!  If you have a European bed frame, or other special shape or size mattress needed, just give us a call and we will work it out for you.