Description
Pure, cozy, and eco-friendly!  Filled with Hungarian white goose down sourced to the Responsible Down Standard – and wrapped in a combination of GOTS Certified organic cotton grown from non-genetically engineered seed and without toxic pesticides and synthetic fertilizers, and TENCEL® lyocell – a natural and renewable fiber made from wood pulp cellulose.  Pure, breathable, and environmentally friendly.  This comforter provides superior comfort and a great night's sleep to environmentally conscious users.
650 plus Hungarian White Goose Down
305 Thread Count
Baffled Box Construction
100% Pure Organic Cotton & Tencel® Lyocell Shell (50/50)
Care Instructions:
DAILY CARE: Always use a duvet cover  to protect against everyday soil. Fluff your down product daily to refresh down filling.
WASHING INSTRUCTIONS: Machine wash in a commercial-size front-loading washing machine. Do not use a washing machine with an agitator.
Wash in cold water with a mild, low-sudsing soap. Do not use bleach.
Dry on low heat in a commercial-size dryer. Use tennis balls in the dryer to dissipate clumps. Dry well beyond the point where the outer fabric feels dry; this often takes 3-4 hours. This will ensure that the down clusters are free from any moisture. If possible, allow the comforter an additional 24 hours to air-dry before placing it inside a duvet cover.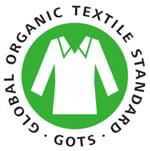 ORGANA COMFORTERS
| | | | |
| --- | --- | --- | --- |
| Size | Summer Weight | All Year Weight | Winter Weight |
| Twin 68×86 | 17oz. | 26oz. | 36oz. |
| Full 76×86 | 19oz. | 28oz. | 40oz. |
| Queen 86×86 | 22oz. | 32oz. | 44oz. |
| OS Queen 90×94 | 25oz. | 35oz. | 49oz. |
| King 104×86 | 27oz. | 37oz. | 52oz. |
| OS King 108×94 | 31oz. | 41oz. | 60oz. |