Description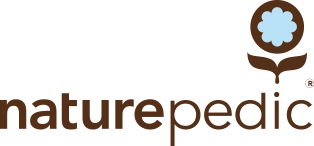 The Naturepedic Breathable 2-Stage crib mattress product has two parts – a firm, flat, and supportive crib mattress and a removable, breathable, and washable mattress pad on top.  The crib mattress has two distinct sides so that the mattress can grow with your baby. The first is a firm, waterproof side for your infant.  The surface of this side is easily wiped clean, as it has a nontoxic waterproof finish. For a toddler, the mattress can be flipped for a plusher feel.
The Naturepedic Breathable 2-Stage Organic Crib Mattress is comfortable and supportive. Excellent air circulation is provided by the breathable mattress pad that is provided with the mattress.  Naturepedic's patented wavesupport™ technology provides strong structural support throughout the mattress for a product that lasts for years.  The seamless waterproof construction ensures that the mattress remains clean if an accident does happen, protecting your infant from mold which can develop inside if a mattress becomes moist. The waterproof surface is made of polyethylene – a substance so pure that it is food-grade.
 Naturepedic's exclusive fire protection system features a naturally derived non-toxic fire barrier system that is safe and effective. It meets and exceeds all Federal and State flammability standards without the use of potentially harmful chemicals. Naturepedic constructs this mattress from pure organic cotton which is GOTS-certified and with no wool, latex, or soy, allergy sufferers can sleep soundly.
You have two options to choose from with this mattress. First, the lightweight option, with wave-support technology, weighs 14 pounds. The traditional innerspring crib mattress, with 252 coils, weighs about 19 pounds.
Fits standard-size cribs and measures approximately 27-1/4 x 51-5/8 x 6 inches. Made in the USA.