Description
For weekend mornings and cozy nights, wrap up in this pure organic cotton waffle robe from Coyuchi. This robe is pre-tumbled so it will be soft from day one, and continue to get softer each time you wash it. Unisex styling with an airy waffle weave that is both comfortable and flattering.  Double belt loops.  Medium/Large is 50″ long.
The waffle fabric will shrink a bit, so it is recommended that you size up with this robe.
Length for Size: XS/S: 47″, S/M: 49″, M/L: 52″, L/XL: 53″
GOTS certified.
Cotton is 100% organic, and sourced and woven in Turkey.
Unfortunately, this robe is only available in limited colors and sizes.
UNISEX SIZE CHART
XS/S
S/M
M/L
L/XL
Pre Wash
Post Wash
Pre Wash
Post Wash
Pre Wash
Post Wash
Pre Wash
Post Wash
Length
47″
44″
49″
43.75″
52″
45.5″
53.25″
48″
Chest
43.5″
40″
44″
42.5″
48.25″
44″
52.25″
47″
Sleeve
21.75″
19.25″
23.5″
21″
25″
22.25″
26″
23.25″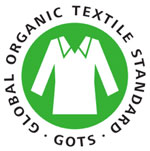 Name
Coyuchi Organic Cotton Waffle Spa Robe - Fog, XS/Small
Coyuchi Organic Cotton Waffle Spa Robe - Fog, Sm/Med
Coyuchi Organic Cotton Waffle Spa Robe - Fog, Med/L
Coyuchi Organic Cotton Waffle Spa Robe - Fog, L/XL
Coyuchi Organic Cotton Waffle Spa Robe - White, XS/Small
Coyuchi Organic Cotton Waffle Spa Robe - White, Sm/Med
Coyuchi Organic Cotton Waffle Spa Robe - White, Med/L
Coyuchi Organic Cotton Waffle Spa Robe - White, L/XL
SKU
Coy-1017831
Coy-1017830
Coy-1017829
Coy-1017828
Coy-1019360
Coy-1019361
Coy-1019362
Coy-1019363
Price
$98.00
$98.00
$98.00
$98.00
$98.00
$98.00
$98.00
$98.00
Color
Fog
Fog
Fog
Fog
White
White
White
White
Size
XS/Small
Sm/Med
Med/L
L/XL
XS/Small
Sm/Med
Med/L
L/XL
Shipping
This item is in stock and ready to ship in white (except XL). It will ship in 4-5 business days. . This item ships within US only   Shipping rates  >
| | |
| --- | --- |
| Name | Coyuchi Organic Cotton Waffle Spa Robe - Fog, XS/Small |
| SKU | Coy-1017831 |
| Price | $98.00 |
| Color | Fog |
| Size | XS/Small |
| | |
| --- | --- |
| Name | Coyuchi Organic Cotton Waffle Spa Robe - Fog, Sm/Med |
| SKU | Coy-1017830 |
| Price | $98.00 |
| Color | Fog |
| Size | Sm/Med |
| | |
| --- | --- |
| Name | Coyuchi Organic Cotton Waffle Spa Robe - Fog, Med/L |
| SKU | Coy-1017829 |
| Price | $98.00 |
| Color | Fog |
| Size | Med/L |
| | |
| --- | --- |
| Name | Coyuchi Organic Cotton Waffle Spa Robe - Fog, L/XL |
| SKU | Coy-1017828 |
| Price | $98.00 |
| Color | Fog |
| Size | L/XL |
| | |
| --- | --- |
| Name | Coyuchi Organic Cotton Waffle Spa Robe - White, XS/Small |
| SKU | Coy-1019360 |
| Price | $98.00 |
| Color | White |
| Size | XS/Small |
| | |
| --- | --- |
| Name | Coyuchi Organic Cotton Waffle Spa Robe - White, Sm/Med |
| SKU | Coy-1019361 |
| Price | $98.00 |
| Color | White |
| Size | Sm/Med |
| | |
| --- | --- |
| Name | Coyuchi Organic Cotton Waffle Spa Robe - White, Med/L |
| SKU | Coy-1019362 |
| Price | $98.00 |
| Color | White |
| Size | Med/L |
| | |
| --- | --- |
| Name | Coyuchi Organic Cotton Waffle Spa Robe - White, L/XL |
| SKU | Coy-1019363 |
| Price | $98.00 |
| Color | White |
| Size | L/XL |