Description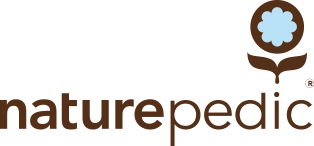 The Naturepedic EOS Pillowtop Mattress is a completely customizable, completely organic mattress! Three customizable layers ensure that your mattress is tailored to your needs. Its multi-layered zippered construction lets you choose the firmness level for  the two organic latex layers in the mattress – plus there is an additional pillowtop layer that is filled with pure organic cotton batting.  The 3″ comfort layer determines how the surface or top of your bed will feel and is primarily responsible for pressure point relief and surface comfort. The 8″ bottom/support layer determines how deep you will sink into the bed and is primarily responsible for postural alignment and balance. There are also several comfort choices for this layer.

This mattress is as beautiful as it is functional. Made of premium organic fabrics with a European-inspired design, the EOS pillowtop will offer a luxurious night's sleep for years to come. Queen and King versions can be customized by side for even more comfort. And because it features natural fibers that help to regulate temperature and are breathable, you will sleep in cool comfort.
This mattress is completely customizable; you may choose from several different firmness options, even customizing it by side in the Queen and King size. Call to speak to a consultant about your options. You can swap out layers — and even change how your mattress feels — for the first 90 days. Sleeping on a mattress that is customized to fit your specific sleep needs will enable you to awaken refreshed and ready for your day — every day!
A mattress pad is useful to protect your mattress investment.
  At Naturepedic, they believe natural materials are at the core of superior comfort and support. Would you rather sleep (or have your child sleep) on a pile of chemicals or be surrounded by the finest organic materials mother nature has to offer? Do you suppose your immune system would rather be fighting foreign chemicals while you sleep or be healing itself instead? The EOS mattress ships in multiple boxes and requires some light assembly. If you need to adjust the layers, you can do so within 90 days — and only pay for shipping.
Proudly made in the USA.
Because there are many different options in terms of firmness, foundations and shipping, we suggest a call to one of our consultants to discuss your options.