Description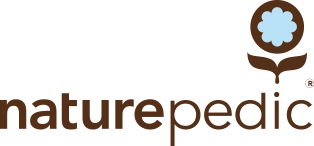 The Naturepedic Organic Cotton Classic Crib mattress is one of the healthiest organic crib mattresses available. Not only does it eliminate potentially harmful chemicals from your baby's crib, but it is firm, matching the support, strength, and durability of an innerspring mattress. Your child will sleep comfortably in a natural and healthy sleep environment.
With a weight of 12 pounds or less, bedding changes are conveniently done. Naturepedic's patented wavesupport™ technology provides strong structural support throughout the mattress. This support creates a product that lasts for years – without the use of foam!
As mentioned in our 2022 Best Organic Mattress Guide, this mattress is convenient and safe as a mattress choice.
Safe and Seamless Construction
The seamless waterproof construction ensures that the mattress remains clean if an accident does happen. This seamless construction protects your infant from mold, which can develop inside if a mattress becomes moist. The waterproof surface is made of polyethylene – so pure that it is food-grade. Naturepedic's exclusive fire protection system features a naturally derived non-toxic fire barrier system that is safe and effective.
It meets and exceeds all Federal and State flammability standards without the use of potentially harmful chemicals. Naturepedic constructs this mattress from pure organic GOTS-certified cotton. There is no wool, latex, or soy, so allergy sufferers can sleep soundly.
Naturepedic Organic Cotton Crib Mattress Specifications
Fits standard-size cribs and measures approximately 27-1/4 x 51-5/8 x 6 inches. Choose from a regular lightweight crib mattress (MC-24) or a 2-stage mattress  (MC-34)- usable through your child's baby and toddler years. The 2-stage mattress features two distinct sides:  A firm side for your baby's safety and a more plush side for your toddler's comfort. It is made in the USA.