Platform Bed Frames: The Definitive Guide
WHAT IS A PLATFORM BED?
Getting a good night's rest is dependent on several factors. One of the more important elements is the bed itself. Many people are turning to the platform bed option. Although just recently rising to popularity in America, platform beds have been around for centuries and were widely used in Europe and other countries. A platform bed is a simple construction consisting of a mattress and a frame that is slightly elevated. It is usually rectangular, can be solid, and is most often made of wood, but can also be made with metal. Although less common, they are sometimes referred to as cabin beds. 
Platform Bed Parts & FAQ:
Headboard & Footboard
A platform bed can have a headboard and footboard, they could have one or the other, or they could have neither of them. Platforms that do headboards and/or footboards allow you the freedom to decorate, an easy way to show your own personal style or add a neat element to your bedroom.
Slats
Platform beds typically have rows of slats running from one side to the other, intended to support the mattress. While a traditional bed frame only has a few slats to support a foundation or box spring, a platform has multiple, to hold a mattress without additional support. Adjusting the distance between the slats can allow you to slightly modify the firmness or softness of the mattress. It's quick and convenient and many platform beds include this additional feature. It's good to note that platform beds can also have a solid surface instead of adjustable slats.
What about the height of platform beds?
They vary, some sitting lower to the ground than traditional beds. This is typical since the elimination of the boxspring takes off a lot of the height. However, there are platform beds that offer more height and allow for storage underneath. 
Many people can't tell the difference between sleeping on a platform bed versus a box spring.
How about the comfort of platform beds?
The answer is there are no worries when it comes to the comfort of sleeping on a platform bed. While many people can tell the difference between laying a mattress on the floor and having it on a platform, many people can't tell the difference between sleeping on a platform bed versus a box spring.
Can I put a box spring on a platform?
While it is unnecessary it is still possible to place a box spring on a platform frame. The use of a box spring with your platform bed frame is a completely personal choice and is okay to do as long as you have a mattress that is supposed to be supported by a box spring. 
Styles of Platform Beds:
Platform beds come in various styles. Here is a list of some popular variations:

A floating design that has a larger top than a base. This creates the illusion that the frame and mattress are floating, or slightly hovering depending on the height above the ground.

Slats or solid top, as mentioned above.

Open base with space for storage

Drawers underneath for added storage and organization

With or without headboard and/or footboard

Solid, little or no space beneath
Platform Bed Pros & Cons

Platform Bed or Boxspring?
Box Spring v. Platform
People most commonly compare platform beds to box springs. Both are bed bases, although a platform bed doubles as a bed frame. A traditional box spring is made of either wood or metal. It is the size of your mattress and holds within it metal springs that respond to pressure from the mattress on top. This makes box springs designed specifically to support innerspring beddings. They also offer less variety of styles and options as compared to platform beds. While they can sometimes be the most cost-efficient option, they are usually not as sturdy or durable as other options, including platform beds. They are often the bounciest option but this can also cause it to be noisy, something you don't have to worry about with platform beds.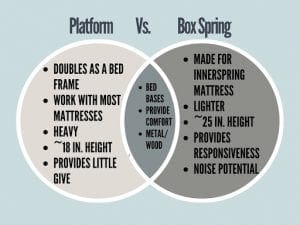 Platform vs. Other Options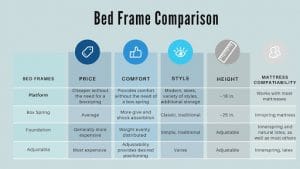 What The Clean Bedroom has to offer:
The Clean Bedroom proudly offers green and sustainable platform beds from trusted manufacturers including; Cisco Brothers, Knickerbocker, Urban Woods, Maple Corner Woodworks and more. These innovative, modern style beds are handcrafted in the USA by skilled craftspeople passionate about their craft. We offer a variety of styles and sustainable materials including maple, ash, and fir made free of harmful chemicals.
Some traditional furniture options are coated in formaldehyde, flame retardants, and other harsh toxins, but our all-natural options are made with water-based stains and low-VOC acrylic. This allows the customer to achieve a safer, cleaner home without compromising on the visual appeal of their product.
The Clean Bedroom is pleased to bring you this diverse, yet carefully selected, inventory of beds, with a variety of wood tones and types. Additionally, you don't have to worry about the size of your mattress fitting these frames, because they are capable of accompanying a wide variety of mattress types and sizes such as twin, queen, king, and more. Finding the right choice for you has never been easier! Whether you're looking for a warm tone in a rustic style, or a modern option in darker tones, a sleigh style frame with matching headboard or a platform bed free of headboards for a clean look, we have a style for every preference!