Meet the Brands: Vispring Mattresses – Handcrafted Luxury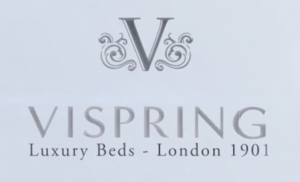 A Best Kept Secret – that's the way Ryan Ingerson describes Vispring mattresses!  He should know, as Ryan worked with a number of well-known mattress brands in his professional career before coming to Vispring. We spoke with Ryan, our Vispring representative, for a few minutes about how he views Vispring as being unique among mattress makers.
A History of Handcrafted Luxury
For over 100 years, Vispring has manufactured the individually pocketed coil. Utilizing this type of coil makes the mattress much more responsive. Each spring moves independently in response to your body and your movements, offering personally-tailored support and supreme comfort. This coil was actually invented by Vispring's founder, James Marshall in the early 1900s. He wanted to make a supremely comfortable bed for his wife.
Initially, it was called the Marshall coil – made of Vanadium steel with a calico pocket.  It had six turns in the coil which is how Vispring got its name.  The name comes from the Roman numeral for six (VI) from the number of turns in the original individually wrapped coils – so VI + spring = Vispring. The company has changed hands a few times, but the recipe for the mattresses is exactly the same as it was in 1901. Also the same is the manner in which the mattresses are made. The craftsmanship is handed down from person to person.
Vispring still manufactures their own coils.  In fact, they still possess the original coil machines from 1901. Techniques are handed down through generations as new apprentices learn through an extensive training period. They are taught how to do the hand tufting and the side stitching and all other aspects of the mattress building business. Each mattress is hand sewn, hand-stitched, and hand-tufted by experienced craftsmen who have trained for years in the art of making these unique mattresses. They take
pride
in their work as they handmake every single mattress.
You'll hear the word 'bespoke' often in reference to Vispring mattresses. That's because each mattress is individually tailored to each customer's requests. Each mattress has a ticket with the made-to-order specs ordered by the customer. That ticket follows the mattress around from station to station to make sure that the customer gets the highest quality mattress, exactly the way that they ordered it.
All-natural raw materials used in Vispring mattresses
Vispring mattresses utilize the highest quality raw materials – cashmere, horsetail, silk, mohair, Vanadium steel for the springs, and of course natural wool and cotton. Each of these contributes to the different feel of the mattress for each person as these materials contribute springiness, temperature regulation, plushness, responsiveness, support, and many other types of comfort. All-natural materials provide the best in comfort and durability. Vanadium steel has not been recycled, so it is incredibly strong and is one of the reasons Vispring can offer a full 30-year warranty on all of its mattresses. To provide a complete matching package, Vispring constructs matching divans and headboards. These piecesare covered in one of their high-quality fabrics or one of your own choosing. They started to make these because they wanted their headboards and divans to last as long as their durable mattresses. That way, the customer has a total package for many years.
Vispring has one of the industry's best warranty with a 30-year warranty. Because the fillings are so durable, and the craftsmanship impeccable, a Vispring mattress is a true investment! It could be the last mattress you will ever buy.
First published on August 9, 2020