Description

Refresh your mind with the Mariposa Collection – Lightweight, yet warm, the Mariposa is a comforter for all seasons with a medium 700 fill power. The mix of goose down and milkweed clusters makes this comforter hypoallergenic, even for those allergic to down. This luxurious mixed is then wrapped in soft cotton sateen for an elegant and comforting night of sleep.
Stitched in a 9″ boxed design, the Mariposa Comforter features sewn-through construction for a modern look.
Eco-Friendly
Ogallala Down is eco-friendly: Goose down and milkweed fiber (Syriaca) each are amongst the lowest carbon footprint of any other natural fill material (it's even lower than synthetic material). Both fibers are biodegradable and are renewable resources, making this comforter a very sustainable choice.
Select your warmth level – lightweight or warm.
Dimensions:
Twin/XL Twin 70″ x 90″
Full/Queen 90″ x 94″
King 106″ x 94″
Grand King 108″ x 98″
Super King 115″ x 110″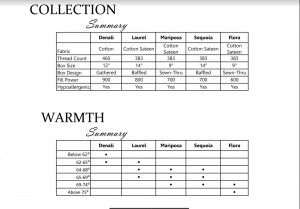 Wondering what fill power means? The higher the number, the denser the fill. Here is an illustration of how much fill takes up one ounce for each fill power.