12 Steps to a Healthy Bedroom
by Chris Chamberlin, CEO and co-founder
orignially published April 2015 for Natural Awakenings NYC
updated January 2019
---
Having a healthy home – and, as a result, a healthier body – includes establishing and maintaining earth-friendly standards in every room. Since the average adult spends one-third of each day in bed, the bedroom is the most frequently inhabited room of the house and a good place to start when it comes to creating a less toxic home environment.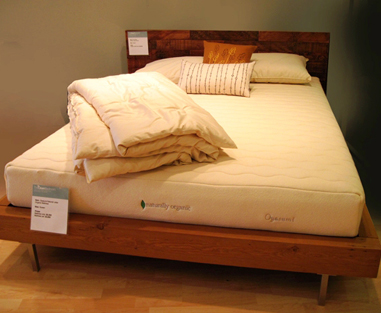 To create a healthy bedroom, the focus should be on removing airborne allergens like dust mites, pollen, mold, mildew, bacteria, viruses and Volatile Organic Compounds (VOCs). These unwanted visitors disrupt sleep and can pose a range of long-term health problems from asthma to cancer. To reduce indoor air pollution, the American Lung Association and the Environmental Protection Agency recommend three strategies: control sources of pollution; ensure the home is vented adequately; and keep indoor air as clean as possible.
Here are twelve steps to creating a healthy bedroom in your home:
Step 1: Replace your existing conventional mattress because flame-retardant and stain-resistant chemicals could have been sprayed on it at the factory. Its foam cushioning could contain PBDEs. Sleeping in such close contact with these off-gassing toxins can be unhealthy.
Instead, choose a natural latex mattress, which is antimicrobial, antibacterial and dust mite resistant and relieves pressure points. Check that the latex is at least 97-percent natural and not a 60/40 blend of natural- and petrochemical-based materials. A natural latex mattress provides the neck, shoulders, hips and knees with pressure relief as sleep occurs in the mattress rather than on top of it.
Those who are chemically sensitive – particularly to latex odors – may prefer a natural cotton mattress or organic cotton mattress. While cotton mattresses tend to be extremely firm, a wool topper can be added to soften the top and relieve pressure points. A topper will also reduce body indentations that occur over time.
Step 2: If getting a new organic mattress isn't an option, add a pure wool or natural rubber mattress topper to the existing mattress. Although the topper won't stop the old mattress materials from off-gassing, it will put some much-needed distance between the sleeper and the toxins. In addition, encase the mattress and pillows in organic cotton barrier cloths or zippered encasings to protect the lungs from dust mite allergens and protect the skin from any eczema suffering.
Step 3: Replace conventional bedding with sheets, pillowcases, blankets and duvet covers made with all-natural or organic fibers. All fabrics, unless specified, are treated with a chemical flame retardant or stain protection. Instead, choose items made with untreated or organic cotton or wool – organic cotton now comes in many colors and patterns.
Step 4: Replace conventional pillows with those crafted of untreated cotton, organic cotton, buckwheat hulls, wool or natural rubber (97 percent natural latex). Avoid down pillows, which attract mites and can produce mold as they draw moisture in and don't dry out quickly. The same holds true for down comforters; instead, select a wool comforter for lightweight warmth and superior moisture-wicking properties.
Step 5: Replace conventional furniture with items like a headboard, side table and dresser crafted of renewable wood with a non-toxic finish.
Step 6: Get an air purifier that uses filtration known as HEPA (High Efficiency Particulate Air). A good HEPA filter will eliminate 99.97 percent of all particles the size of three microns or larger. In choosing an air purifier, consider yearly costs for filter replacement. Some units require ongoing filter replacement and prove to be very expensive in the long run.
Step 7: Remove old carpeting – a breeding ground for dust mites – and replace it with hypoallergenic cork, ceramic tile or wood flooring that is not treated with a toxic finish or recycled linoleum called Marmoleum. Include scatter rugs that can be easily washed.
Step 8: Get rid of conventional draperies or shades. Invest in untreated wood blinds or fabric shades made with organic fibers.
Step 9: Repaint with non-VOC paints or try hemp wall upholstery that can be stapled into place without using adhesives.
Step 10: Air out bedrooms and bedding. The Environmental Protection Agency and the National Lung Association recommend opening windows to regularly recycle the air. Those with seasonal allergies should use a window guard to stop pollen, dust and dirt particles from entering the room. And don't be so quick to make the bed – upon rising, let bedding air out.
Step 11: Maintain a clean sleeping environment. According to the Mayo Clinic, bedding should be washed often in hot water at least 130 degrees Fahrenheit to kill dust mites. Cold water washing can be done with detergents specifically designed to kill dust mites.
Step 12: Conventional pet beds are as unhealthy for pets as conventional beds are for pet owners. Choose instead those made of all-natural or organic cotton, with removable covers that can be easily laundered in hot water.
Most of these steps do include a financial component, yet each one is an investment in good health – surely the most important investment that can be made.
Chris Chamberlin is co-founder of The Clean Bedroom, which has allergy-free, eco-friendly mattresses, bedding and accessories. Sleep showrooms are located in Portsmouth, NH; and New York. For more information, visit The Clean Bedroom or call 212-764-3232.
As always, you can get the latest sleep and green living information by finding and following us on Facebook, Twitter, Pinterest, Instagram, and NOW Tumblr