Meet the Brands: Brahms Mount

Weaving together comfort and tradition
In New England, a cozy blanket is a must-have item for most seasons of the year. Experience the pure comfort and warmth of natural wool and cotton blankets with Brahms Mount! With all-natural fibers and incredible softness, a blanket from Brahms Mount is sure to be a treasured companion, especially in the cooler seasons.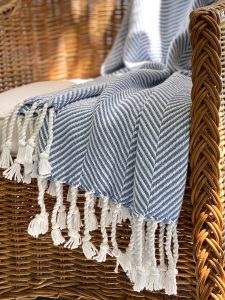 Brahms Mount's History
Brahms Mount has been in the textile business since the company was founded in 1983. They were determined to bring back American manufacturing and classic design. With a firm commitment to natural fibers like flax, wool, and cotton, they steadily built a loyal following. Brahms Mount's natural textiles stood in contrast to synthetic fibers like acrylic and poly that were popular in the 1980s. Keeping the Maine textile tradition alive, their pieces are woven by a core staff of skilled local craftspeople using antique shuttle looms.
---
Brahms Mount Today
Working out of a mill overlooking the Kennebec River, they are proud to play a role in keeping American manufacturing alive and well. Also, they are proud to produce pieces that feel clean and untreated, rich, and resilient. Their beautiful colors are spun from the finest natural fibers and are achieved with eco-friendly dyes for the least impact on the environment. Because of this, their textiles are uniquely American, sustainable, and wonderfully luxurious.
For easy care, the blankets are washable (carefully!) and the eco-friendly dyes are colorfast. These durable blankets can be used again and again, year after year.
---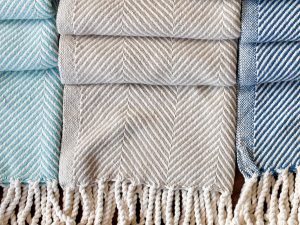 Durable and Sustainable Goods
In a world of disposable items, fast fashion, and mass-produced items, Brahms Mount takes a different approach. Their blankets are meant to be used not just for years, but for generations. The unbelievable quality and variety of products is a secret of their success – brought about by artisans committed to their craft, holding fast to a handcrafted product which will enhance any home. For more information on this unique company and its products, visit their brand page.