Meet the Brands: LinenCasa Stonewashed Linen

How LinenCasa began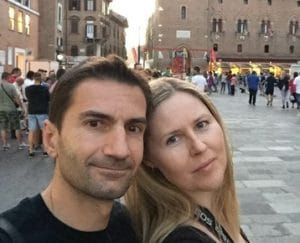 It all started with a love for stonewashed linen. LinenCasa founders and designers, Marco and Tanya, are a husband-and-wife team from Italy and Belarus. They are now based in Dallas, Texas. In the beginning, Marco and Tanya created LinenCasa when they decided to make the leap from their engineering careers to follow their passion. Then, as they realized that they were passionate about linen and, in particular, stonewashed linen, they pursued their dream to start their own business with careful attention to the production, quality, beauty, and durability of the linen products they offered. Why did they choose stonewashed linen?
What is stonewashed linen?
What is stonewashed linen? Traditionally, artisans stonewashed linen by literally washing the linen with stones. As one would imagine, this method is hard on both the linen and the machine! Today, stone-washing uses enzymes that soften the linen. This makes it much easier to care for, as well as softer to the touch. You can machine wash and dry stonewashed linen – no special treatment needed! It dries quickly and will not grow stiff. Best of all, stonewashed linen products will not shrink in the wash.
The linen used in LinenCasa products is made locally with European flax. Most of their linen fabric is Oeko-Tex® Standard 100 certified (product class II). Flax is a very sustainable textile as farmers grow flax with far less water and pesticide than cotton. Besides, growing flax requires no irrigation, no fertilizers, and no herbicides and pesticides. Therefore, flax does not pollute rivers or groundwater. Finally, flax grows naturally and requires no additional water other than rainwater, making it a very eco-friendly textile.
Benefits of using stonewashed linen
Linen is durable. It will never fall apart and will serve you a lifetime.
Linen takes up less space, contributing to a minimalist lifestyle.
You will find linen is very absorbent and dries quickly.
Linen is lint-free and is perfect for wiping glassware.
Finally, linen is naturally anti-bacterial.
Family-owned
LinenCasa is a small, family-owned company with big dreams! They want to help the world understand how beautiful, durable, and sustainable linen products can be. LinenCasa makes every product so that it will last for years and be a true investment in making your home beautiful and functional. Whether a kitchen towel, a throw blanket, or bed linens, you can count on these exquisite linens to become softer and stronger as the years go by. These high-quality, sustainable products fit perfectly in an eco-friendly home.
---
To learn more about linen and how it is made, check out the infographic here. To read more about the LinenCasa brand and see all of their linen products we carry, visit their brand page here.