Meet the Brands: Royal Pedic – the Healthy Mattress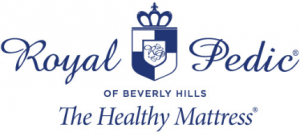 A Big Story
The largest mattress ever made by Royal Pedic Mattresses was 10 feet x 10 feet and required 8 people to carry it! Who ordered such a large mattress? Read on for the story!
How Royal Pedic Mattresses began
As one of the first names in the business, the founder of Royal Pedic, Abe Kaplan, actually began learning the practices of mattress making in London during the 1930s. With his knowledge and dreams, he headed for America and set off to revolutionize the world of mattresses. Since Royal Pedic started selling their mattresses in 1946, they have become a standard in the industry. Shortly after they began, their designs would soon become the top choice for Los Angeles interior designers, as well as consumers. In fact, these mattresses are the premier choice for an endless list of film celebrities and six U.S. presidents, including Ronald Reagan and John F. Kennedy, who insisted on Royal Pedic wherever he traveled.
Three generations working together
In the 1980s, Mr. Kaplan retired, and the Kelemen family took over the business. Mr. Kelemen had been a partner in another business and was looking for a company that he could run it completely on his own. He realized that he was, at the time, buying a small business that was smaller than most mattress companies. Yet, Royal Pedic had served Bob Hope, Dean Martin, Marilyn Monroe, and several American presidents with their luxury mattresses. Mr. Kelemen set out to learn the mattress business. He was the sole owner, running it by himself, as he had wished, along with the factory workers. It soon became a family affair, with Tony Kelemen, his son (and current owner) assisting. This has not been Tony's only career, as he also has experience in working at Baskin Robbins, pumping gas, working at Woolworths, gardening, cleaning pools, property management, and accounting! After a time, Tony's mom came on board as well. Currently, Tony's son is working with them, so they now have three generations working together in this family business.
Each mattress is custom made by hand, so the process is very labor-intensive. The workers are very skilled in what they do. Some workers have been there for two or three decades! They are not paid by the piece as in some factories, but by the hour, as they do not want to rush the process of making each bed. Whether innerspring or latex, every one of their high-quality mattresses is made with care and craftsmanship.
The finest all-natural and organic materials
In the late 1980s, customers began asking about organic cotton because of chemical sensitivities. So they started to make their mattresses with organic cotton layers and organic cotton cover. While they still handcraft their mattresses in California, they have become one of the most environmentally concerned companies in the industry. With a firm understanding of the impacts of harmful chemicals on both the planet and human health, they now make their signature mattresses using natural and organic materials and safe practices. A leader in the field with a commitment to the health of consumers, Royal Pedic uses only the finest materials in its mattresses – all-natural wool, cotton, and latex. This provides the purest rest possible. They believe mattresses can be plush, but should also be buoyant and supportive. The use of pillowtop pads or pillowtop mattresses helps give support while also adding comfort. When they began, pillowtop pads were not a common item, but Royal Pedic started manufacturing them to add more plushness to their beds. They also make double-sided pillowtop mattresses.
Every Royal-Pedic mattress features the hallmarks of quality associated with the company. These include features such as long-staple organic cotton farmed in Peru, quilted padding on both sides to make it easier to rotate, and more. These mattresses offer the best in luxurious comfort coupled with firm support where you need it most. With their innovative innerspring designs, mattresses feature double heat tempered spring systems that offer the best in support while also helping to extend the life of the mattress. They don't cut any corners – they make the finest. They source the best materials and service the customer well.
All-natural flame retardant – wool!
Another great thing about this brand is that they use wool wraps which serve as a flame retardant. Some mattresses use harsh chemicals to reach the flame resistance needed to pass the regulations process. With these all-natural mattresses, every part of the process has taken place free from harmful chemicals to ensure a safe and sound night of rest for years to come.
The largest mattress they ever made was 10 feet by 10 feet for the basketball player, Wilt Chamberlain.
So who had that 10 x 10 mattress?
They have had some interesting customers over the years. Royal Pedic has made custom mattresses for princesses, stars, and for US Presidents. The largest mattress they ever made was 10 feet by 10 feet for the basketball player, Wilt Chamberlain. That took 8 people to carry! They have even made mattresses for round beds. Most people who buy a Royal-Pedic mattress do so because of their reputation and because of word-of-mouth from generations of customers. Their number one concern is always client comfort, handcrafted quality, and excellent all-natural materials. Ultimately, they just want their customers to have a good, restorative, restful night of sleep.
---