(first published in 2014)
I spent several weeks prior to Christmas gathering information for you on the great benefits of alpaca products. And I have to tell you. I learned three significant things:
1. A llama is NOT an alpaca.
2. I want an alpaca. Immediately.
3. I want an alpaca mattress topper and comforter for Christmas!
As I sent my Christmas wishes up to the North Pole for luxe bedding and farm animals, I also feel I came up with enough information to share how alpaca (and no, not the farm animal) can help you achieve a healthy night's sleep!
Differences between Llamas and Alpacas
Llamas and alpacas may look similar (and both will spit on you!) However, there are some notable differences. Mount Airy Alpaca Company describes the difference between llamas and alpacas: "… a llama is roughly twice the size of the alpaca, and the llama has a very coarse outer coat over a softer inner coat – as opposed to the alpaca, which has a very fine, single coat. In addition, the llama produces far less fiber per animal than the alpaca, despite its much larger size." Alpacas are sturdy and strong, despite their smaller size, as well as being incredibly cute and fluffy!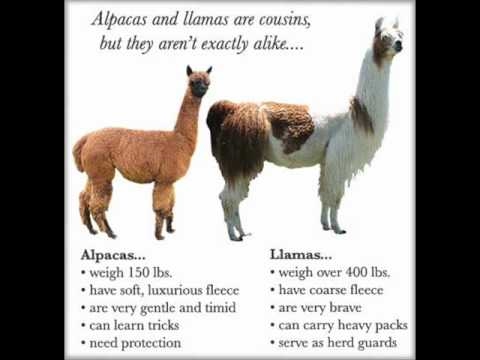 Why Alpaca?
The benefits of alpaca fiber are many. Weavers and knitters have long prized this fiber for its softness, strength, and durability.  The alpaca fiber itself is hollow, which makes it one of the warmest and softest natural fibers available. Additionally, the fiber is naturally dry and clean, which prevents allergens from collecting, and even prevents dust mites! It is water repellent and is a natural flame retardant. Therefore, no harsh chemicals are needed in alpaca products.
Promoting Healthy Sleep 

In addition to being hypoallergenic, thus less irritating to those with allergies or asthma during sleep, wool is a natural temperature regulator. This means that by keeping you cozy when it's cold and letting you "breathe" when it's warm, you get a more restful sleep. Ever have night sweats? You won't anymore! Wool also tends to wick away moisture, keeping you cooler and drier.
Woolmark cites a sleep study by the University of Sydney which "…proved wool breathes better than synthetics, increases periods of deep REM sleep, and also gets the body to a comfortable sleeping temperature quicker and maintains it for a longer period of time…"
So by the mere act of wrapping yourself in pure luxury, you become more rested both physically and mentally.
The Clean Bedroom, with a mission to help people sleep healthier, chose Crescent Moon to be its featured alpaca product manufacturer not only because of their luxurious products but also because of their commitment to our environment:
"The shorn animals are raised in a pesticide-free environment, and their wool is a renewable resource. No chemicals, dyes, or bleaches are used when the wool is processed. We use only 100% organic cotton fabric, so the whole product is 100% biodegradable at the end of its long life…"
In fact, even the way alpacas feed is environmentally sustainable. Unlike goats and sheep, alpacas chew only the top of the plants they eat, leaving the roots to grow the next crop!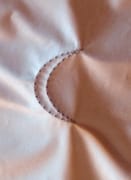 Crescent Moon hems each comforter or mattress pad on an industrial sewing machine, creating rows of "crescent moons" stitched the full length and width of the piece to prevent any movement or "bunching" of the fiber inside the product. The duvets and mattress pads are then packaged in a reusable 100% cotton drawstring bag and shipped to stores like The Clean Bedroom in biodegradable plastic bags.
Our Vispring mattresses also utilize this luxurious fiber in several of their mattresses to help provide temperature control and a plush sleeping experience. This natural material is extremely versatile!
---
So there you have it –  now you know the facts about the differences between alpacas and llamas!