What's So CLEAN About The Clean Bedroom?
by Theresa Sirois, Social Media Coordinator 
---
If you're anything like me, your husband doesn't find you out late on a Friday night shopping for shoes and purses, it's bedding. All things bedding. I love the crisp sheets, I love the soft blankets, I love the silky comforters and the fluffy pillows! At least one thing we can agree on, even if you're not a bedding hoarder like myself, is that we all can appreciate the comfort of a new mattress.
You hop from bed to bed, lying down to ensure in the few minutes you experience each one that you'll find the perfect combination of comfort and support you've been longing for. And you're sick of looking at your dingy old mattress every time you change your sheets, so you can wait to get that bright new mattress through the door!
What's important to know here, is that white doesn't necessarily mean pure.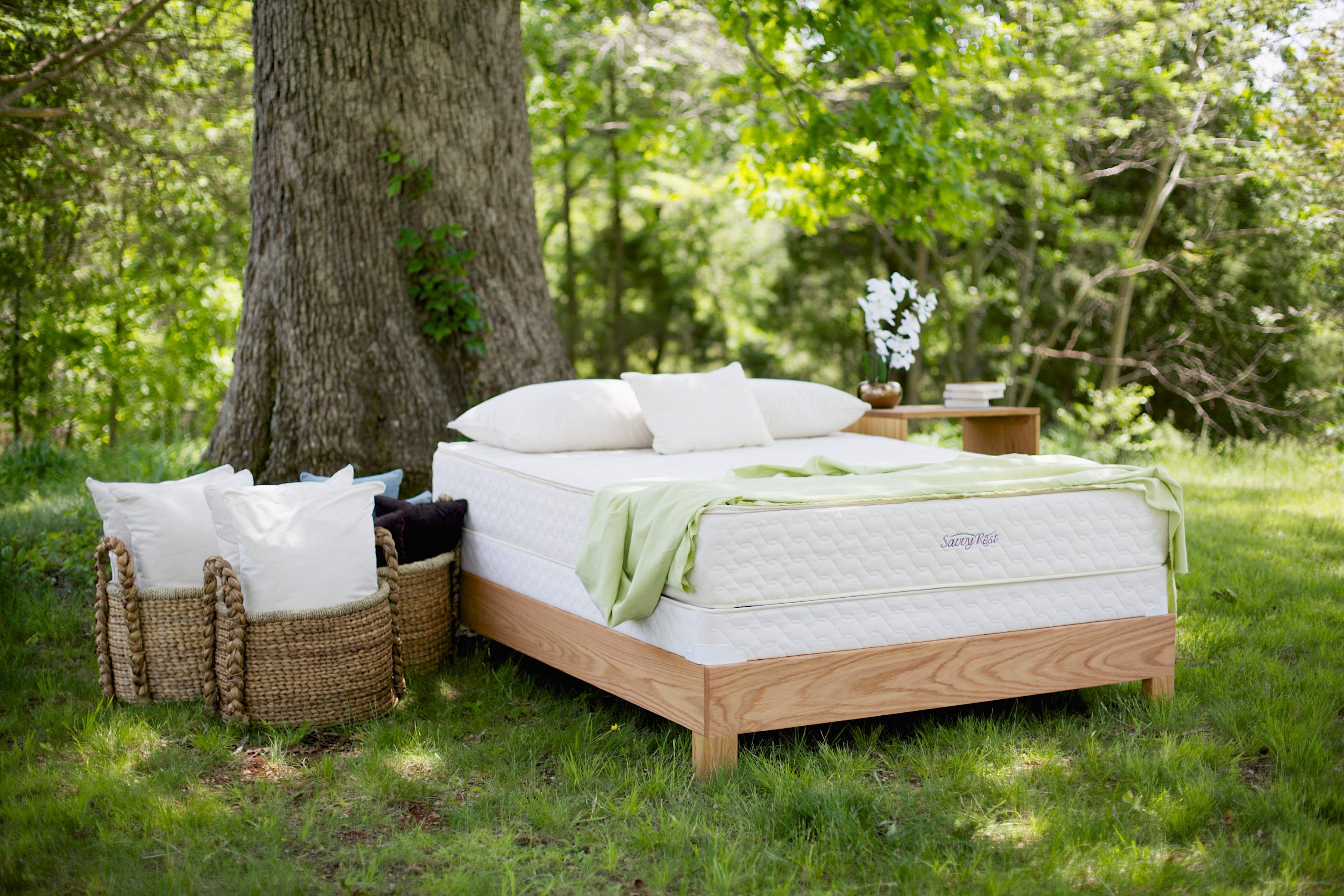 Our friends at Savvy Rest recently published a great blog about organic mattress fabrics. The top layer of
fabric (in traditional mattress stores this is a synthetic fabric) is literally just the icing on the toxic cake. Organic textile standards, on the other hand, offer some clarity into what is NOT allowed in our mattresses versus the traditional mattress.
GOTS-certified organic fabric must meet the stringent and relatively new Global Organic Textile Standard. The U.S. National Organic Program requires that in addition to using organically-grown raw materials, GOTS-certified textiles must exclude the following:
Toxic fabric dye
Pretty fabric colors, including many natural-looking hues, almost always start with highly-toxic and carcinogenic coal tar.
Our colored fabrics, like the ones by Live Good, are locally-sourced, low-impact, water-based dyes.
Toxic fabric finishes
Chlorine bleaches, formaldehyde, and the processes that make fabrics "anti bacterial" are just some outlawed by the GOTS standard due to carcinogenic or DNA altering effects.
An organic mattress consists of materials are all-natural, and is clean and free of chemicals- cotton is grown without pesticides; the latex is free of synthetics; and for fire protection, pure wool is used.
Polluted water
A factory's effluent, or the wastewater that is flushed from the plant after use, cannot be released unless it has been treated and filtered. Without this precaution, textiles made in the plant will not be certified organic. The requirement protects local groundwater and also prevents toxic impacts on eco-systems downstream.
Unfair labor
Organic certification also covers worker welfare. Organic-textile workers must be paid a living wage and cannot be blocked from forming unions. Most importantly, child labor is forbidden.
Cross-contamination
GOTS-certified textiles must be kept separate from non-GOTS-certified products. This measure prevents contamination from the toxic chemicals and finishes that are routinely used to manufacture conventional textiles, and may linger in the facility.
Organic bedding may cost more, but you should think of your investment as you would the purchase of your family car: invest in safety, comfort, and peace of mind. Remember you'll be sleeping on your organic mattress for 10 years or more — longer than you'll drive your car — so invest wisely and sleep healthy!
As always, you can get the latest sleep and green living information by finding and following The Clean Bedroom on  Facebook, Twitter, Pinterest, and Instagram.