For over 30 years, Ogallala Comfort Company has been helping people to sleep soundly with some of the best organic products available. What makes this company stand out in the industry of luxurious organic bedding is their Ogallala® blend of down –  a naturally hypoallergenic blend of Syriaca, otherwise known as milkweed fibers, and goose down.
Family owned business in the heartland
Ogallala Comfort Company is a family-owned and operated company in Ogallala, Nebraska, a small community dedicated to ranching. They are the world's largest supplier of sustainably harvested milkweed products. This business is here to change the landscape of the United States. Not only are they harvesting these plants to create all-natural products, but they are developing a whole new agriculture based on the milkweed plant. Finding the benefits hidden in this plant, Ogallala believes it is bettering people's lives with products that comfort, protect, and improve health.
Hypoallergenic down
For many, allergies are a big concern when it comes to purchasing down products. Luckily, if you're allergic to down, Ogallala Comfort Company offers the solution. The Syriaca (milkweed) fibers calm the allergens in down, making their products hypoallergenic, even for those with down allergies. Each product is a luxurious blend of the two so that you are not only adding all-natural products to your bed but ensuring that you are calming potential allergy flare-ups before they even happen. We have a variety of products available in this Ogallala® blend, including pillows, comforters, duvets, and even a featherbed. Each product is a 70% goose down, 30% milkweed blend, ensuring the perfect combination for comfort. In addition, Syriaca clusters are a natural dust mite repellant, so you don't have to worry about any bug issues. Best of all, these items contain no chemical flame retardants and are non-toxic. All down is sourced according to the Responsible Down Standard and no live-plucking is involved. Geese are treated humanely in every step of the process for any down sourced for Ogallala Comfort Company. Wondering which comforter is right for you?  Take a look at the differences in the table below, and consider your preferred sleeping temperature when deciding.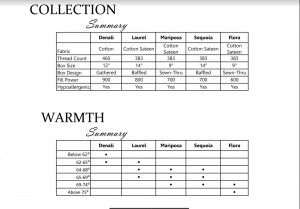 Here at The Clean Bedroom, we are your source for high-quality organic bedding products. We have everything you need to achieve a restful night's sleep in a healthy manner, all the while doing good for the planet and for your health. If you have any questions while shopping our selection, please feel free to contact us for more information. Read More