Manufacturer Spotlight: Ogallala Comfort Company – From Bed to Butterfly
Here at The Clean Bedroom, we choose the brands we sell very carefully. Rather than getting a trade show sales pitch, we visited the factories of the organic industry's leading mattress and bedding manufacturers. We needed to know how they handled the materials, how clean their warehouses were, how many people they had on staff, etc. In doing so, we learned the quality of their construction, met some fantastic people, and have heard some incredible stories. One of those stories is the amazing and inspiring start of Ogallala Comfort Company This company began its journey in 1986 as a seemingly small project involving milkweed.
What is milkweed?
Milkweed is indeed a weed that grows primarily in the Midwest, but you can find it throughout the United States, Mexico, and Canada along the North American Monarch migration route. There are over 800 varieties of milkweed worldwide. Milkweed is the sole food source of the Monarch Butterfly.
So what do butterflies have to do with Ogallala down bedding? 
When he discovered milkweed, founder and owner Herb Knudsen tried to sell "syriaca clusters" (the silky fibers of the milkweed) to down companies to be used as a blending product.  After being laughed out of many meetings, Herb got to thinking about starting his own company, and Ogallala Comfort Company was born. The company remains true to its roots, making its products in Ogallala, Nebraska, a rural ranching community of 4,500. Ogallala Comfort Company is a family-owned business in its 31st year of operation.  Coining the term "Hypodown," Herb proved that Ogallala down is better than down alone.  It increases fill power, is hypo-allergenic, and transfers moisture away from the body better.  Over twenty years later, customers know Ogallala throughout the industry as having the finest down products available.
Let's explain syriaca.
Syriaca is not a synthetic, nor is it used as a down filler.  Syriaca is the natural and non-treated product of milkweed. Milkweed traps and suppresses allergens found in down that cause allergic reactions, making the product naturally hypo-allergenic.  Syriaca makes the down more breathable, more durable, and helps the body regulate temperature.
Milkweed traps and suppresses allergens found in down that cause allergic reactions, making the product naturally hypo-allergenic.
Ogallala Down is about more than just a better night's sleep
When you buy milkweed products, like those from Ogallala, you are helping to save the near-endangered Monarch population. Monarch Flyway, Herb's dream that birthed Ogallala Comfort Company, is still very much the heart of Ogallala. They strive to protect the Monarchs in many ways:
Ogallala is a for-profit business that creates products from sustainable, wild-harvested milkweed collection points
The company believes that increasing demand for milkweed raw materials will increase Monarch habitat throughout North America.
Ogallala partners with Monarch scientists, gardeners, and enthusiasts to create awareness and educate the public
They know they must help preserve over-wintering habitats in Mexico and California to protect the monarch migration.
They create a symbiotic relationship between nature and humans by encouraging people to provide money for their families by protecting wild milkweed stands and harvesting pods.
So go ahead; we urge you to visit any of our showrooms across the US and try out the Ogallala blend of down products we have available to you. In addition to a healthier you, you'll be helping to save the monarch butterfly. For more information on Monarch Flyway, visit them on Facebook and Pinterest.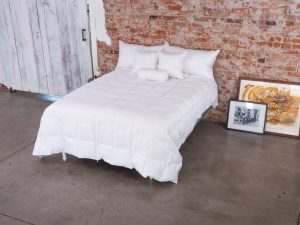 As always, you can get the most up-to-date #sleephealthy information from The Clean Bedroom by following us on Facebook, Twitter, or Pinterest.